I am currently in New Zealand, but I couldn't miss this link up! I hope no-one minds that I am going to link up now and comment later. Yes, I could skip this link up but what if I missed a good book recommendation. The horror. No.
Beartown
- Fredrik Backman -
5 Stars
hockey town deals with.. lots of stuff
I can't even explain this book. I've never read any of his other stuff but I honestly can't imagine how they can even compare or be similar. This book wrecked me. I stayed up till 2am to finish it and I was a bawling bag of mess by the end of it. His writing is beautiful, the characters and overall story just wormed their way into my heart and I highly recommend it. It is about a hockey town, sure, but about SO MUCH MORE than that. You'll know that when you read the first page. It mentions something bad, and then tells the story of how they got there. Trust. Read.
Received copy from
NetGalley
Lethal
- Sandra Brown -
4 Stars
romantic suspense
After enjoying
Mean Streak last month
, I added basically all of Brown's books to my list. I try not to read multiple books from one author in quick succession (unless it's a series) because then I compare or get bored with the formula the author might use. So far, I think she might use a formula as this one was pretty similar to
Mean Streak
. It was still enjoyable, I totally guessed the bad guys early on though, whereas I sat there with my jaw on the floor for a good 5 minutes with
Mean Streak
. I couldn't put this one down though, even if it wasn't quite as good. More like 4.5.
The Secret Keeper
- Kate Morton -
5 Stars
typical kate morton book
I have never guessed the twist of a book as early as I did this one. Sure I guess things all the time but I'm rarely right, and never with the other Kate Morton books I've read. I was like screaming at this book to hurry up and get to what I knew was coming. Figuring it out early on didn't stop me enjoying the book though, Kate Morton's a great writer, though her books are long and convoluted, I love how she fits everything together. I definitely recommend. This was my favourite of hers I've read so far.
Study trilogy
- Maria V. Snyder -
4/4/3 Stars respectively
girl sentenced to die becomes food taster instead
I really enjoyed the first book of this series, it was so different and interesting. The second book was also good, though it went in a direction I was not expecting. The third bummed me out, it was all over the place and not as good as the first 2. Overall, I enjoyed it, and I'd recommend if it sounds like your kind of book (definitely skip if you're not into YA fantasy). The series continues/picks up again after like 10 years and I am a bit curious to see where it goes. We'll see.
Shine Not Burn
- Elle Casey -
4 Stars
mix between sweet home alabama and what happens in vegas


This book was super funny and enjoyable. I really did laugh several times, and though it was a bit predictable, I didn't mind - that's why I read romances, I don't want them to not get together. I read the second one as well, just as cute and funny.
Prejudice Meets Pride
- Rachael Anderson -
3 Stars
kind of pride & prejudice-y but not really
Thought this would be a fun, cute, modern day P&P. It was definitely a cute little book, but not really P&P at all. I mean yeah there's a snobby guy and a proud girl and they're from opposite worlds money wise, but that's it. Light & fluffy, not mad I read it.
The Deal
- Elle Kennedy -
4 Stars
girl with baggage tutors hockey player and then dates him to make other guy jealous
I quite liked this book. It reminded me of Easy, but a little lighter.
celebrity memoir


I really enjoyed this. Anna Kendrick does seem pretty normal and down to earth, but there were definitely parts where it was like we get it, you're totally normal. But I feel like if I was a celebrity I'd be like guys I'm normal(ish) I swear! all the time, so I get it. Really, she is very funny, I liked how honest she was, I want to watch all of her movies now, I hope she writes that second book when she's 70.
Wallflower series -
Lisa Kleypas -
4 Stars
4 books about 4 women getting husbands, historical romance
Perfectly enjoyable for what they are if you are into these kinds of books (as I'm sure you can tell, I am). The characters were fun, the stories were cute.
More like 2.5. Bloody hell this was a slog to get through. Felt like dragging my feet through mud or something. Mare is so annoying. But there were good parts sprinkled it and dammit if I'm not invested in this series and want to see where it goes.
The Madness of Lord Ian Mackenzie
- Jennifer Ashley -
4 Stars
historical romance kind of like the rosie project
This book was adorable. Loved the characters and the story.
Playing for Keeps
- R.L. Mathewson -
2 Stars
next door neighbours romance


I am pretty cranky because clearly I got the wrong book, as there is NO WAY I read the same book that 80,000 other people did and seemed to love. Bloody hell, I'm sorry, but this book was awful. The guy was a complete ass, so immature and just ridiculous. I was shaking my head for most of it. If it weren't so short I would have given up. The epilogue was cute, I'm a sucker for an epilogue, which is the only reason this gets 2 stars instead of 1.
Who knows? For this trip, I brought 10 real books and a kindle full of netgalley, library & kindle unlimited books. MUST HAVE VARIETY. Also, I take most of these books with the intention of leaving them behind or giving them to someone (unless I absolutely love them and refuse to part with them).
I also read The Incorrigible Children of Ashton Place series which was super cute and enjoyable. Unfortunately, the last book is not out yet which is a bummer. It's a kids series, it was super cute, though as I don't generally read to/with children I don't know what age it would be suitable for, but I really did like it and recommend if it sounds like something your kids would like (last one comes out in December hopefully).
Linking up with Steph & Jana.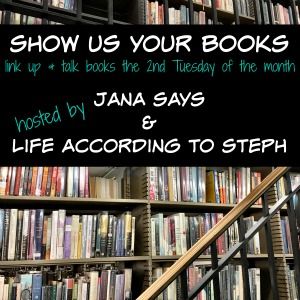 Do you take your kindle or real books when you travel?