Ahhhh books. There was a large chunk of the end of March/beginning of April that I wasn't really able to read. I mean, sure, I could have put down the paint brush and picked up a book, but responsibilities and all that. Thankfully life calmed down and I was able to finish many books since the last link up.
The Seven Husbands of Evelyn Hugo
- Taylor Jenkins Reid -
5 Stars
fictional celebrity memoir
I expected to like this because I've liked everything by TJR so far, but based on the synopsis, cover and title, I didn't think I would love it. Well I'm glad I was wrong. I can't even exactly tell you why I loved it, I just did. Many emotions. I wish Evelyn Hugo was real. It's about so much more than it looks or sounds like. Loved it. Highly recommend.
Received copy from NetGalley
Mean Streak
- Sandra Brown -
5 Stars
romantic suspense
Maybe it's because I don't really read mystery/thriller type books that often but I was shocked so many times reading this. Finished it in one sitting, on the edge of my seat the whole time. I thought I'd be more into the romance, but I enjoyed the story as a whole and I didn't guess a thing.
Cocaine Blues
- Kerry Greenwood -
3 Stars
the first book in the series that my favourite tv show is based on
We all know how much I love
Miss Fisher's
, so when I found out it was a book series I was like the happiest clam who ever lived. But then I found out it was quite different and decided to skip it.. obviously I changed my mind, and if you are a fan, I do recommend it, but absolutely take some time to let the TV show fade from memory. Especially because it's pretty much the same as the first episode, mystery wise. Few differences. No Jack (well, yes Jack but not
Jack
if you know what I mean) but I knew that going in. Anyway. Enjoyed well enough. Teensy bit curious and might continue the series. Maybe.
When You Reach Me
- Rebecca Stead -
3 Stars
middle grade book kind of about time travel
This was a cute read about a 12 year old in the late 70s, with a dash of time travel. For what it is, it was good. Honestly, this was more like a coming of age story and the time travel could have been removed if not for the ending.. but it was cute and sweet. I think it absolutely would have gone over my head as a kid though. There was a little part I really liked:
Sometimes you never feel meaner than the moment you stop being mean. It's like how turning on a light makes you realize how dark the room had gotten.
Pushing the Limits
- Katie McGarry -
4 Stars
contemporary ya romance, girl doesn't remember bad thing that happened to her
I liked this book more than I thought I would! The cover makes me roll my eyes, as did the 'bad boy sees and loves me when no-one else does' cliche, the overuse of 'baby'... but other than that I really liked it. It's a lot grittier than I thought it would be - his parents died and he lives in foster care separate from his two younger brothers he's trying to get custody over, she went through something that scarred her and she doesn't remember. It has its flaws for sure, but overall it was a sweet book, I liked it.
Read for Erin's challenge - set in my city book.
Meet Me at Beachcomber Bay
- Jill Mansell -
4 Stars
chick lit, rom-com kind of beach read
I have only read a couple of Jill Mansell's books but I already know what I am getting when I open one. and I LOVE it. Her books are enjoyable, predictable, cheesy, light and SO fun. I thoroughly enjoy them, and this one was no exception. I really really loved the characters and the story, and even though it is 'chick lit' and you know a happy ending is on the way, I just love the way she gets there. Her books always make me laugh - and face palm over embarrassing moments - and get a bit teary. Definitely enjoyed, definitely recommend if it's your kind of read.
Received copy from NetGalley
Ink and Bone
- Rachel Caine -
3 Stars
world where the great library of alexandria survived
I just don't have any strong feelings about this book. Pretty meh. Some of it was confusing, other parts were boring. The parts that were good were really good though. Interesting world. Great diverse characters, though I didn't feel like I connected with any of them really. Liked that the romance wasn't a focus, but that made it seem not so authentic when it did come around. I don't know. It ended on a kind of cliffhanger but I'm not curious enough to actually continue it. I'm not mad I read it. It might have been a case wrong book wrong time kind of thing.
Received copy from NetGalley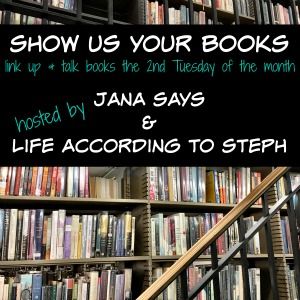 I unfortunately did not finish
Erin's challenge - maybe next time. Read anything decent lately?