Like I've mentioned a few times before, I am not a busy person, I don't enjoy being busy so I make my life not busy on purpose. But sometimes life just gets busy naturally, right? When that happens, I don't deal so well, and everything else falls by the wayside. Obviously with closing on our new house and all the work we are doing, not to mention moving and general life living, it's been busy over here recently. Unfortunately that leaves little time for reading. I have not finished a book in almost 3 weeks. Very abnormal for me. Normally, when my reading mojo goes up and down, it's normal and okay and I just let it be. But when life forces my reading to go down, I get antsy and I am really feeling like a drug addict who needs her fix.. you know? I just want to sit down and read a book! But then.. life. Packing, unpacking, walls to take down, rooms to paint, doors to sand and the list goes on and on. It's great! We are in a house! It's amazing! But I want to read. You know.
A Conjuring of Light
- V.E. Schwab -
5 Stars
I pre-ordered this book - which I never do - because I couldn't wait to get my hands on it. I tried to savour it, I just adore these characters and her writing. It's a weird book/trilogy - I'm plodding along, kind of into it, kind of enjoying it, and then there is a line or word or something that just makes me squeal and think to myself bloody hell I love these books. I highly recommend this series if it sounds like your jam. The books are not like anything I've ever read before and the characters are some of my favourites of all time.
The Couple Next Door
- Shari Lapena -
4 Stars
parents leave their baby at home while they attend a party..
I straight up could not put this down.Which is funny because when I first heard about this book I wasn't sure if I wanted to read it - it draws obvious parallels to Maddie McCann's story, if you are at all familiar with it. That being said, I think the synopsis is the only thing that is similar to Maddie's story - that we know of, considering it is 10 years later and she has not been found. Anyway, this book was unputdownable, bloody crazy characters and a million twists.
Firelight &
Moonglow
- Kristen Callihan -
4 Stars
paranormal historical romance
I don't know if I would say I couldn't put these down, but I did thoroughly enjoy them. They are both right up my book-alley. I liked the characters, the stories were unique,
interesting, sexy and funny. It was light but not ridiculous. If you like books like these, I recommend. It reminded me a teensy bit of Soulless.
Evil Librarian
- Michelle Knudsen -
4 Stars
YA story about a devil librarian
This was thoroughly enjoyable. It was silly, but hilarious and interesting. It's definitely heavy on the YA and it's not serious at all but like I said, I enjoyed it immensely. Made me laugh and smile and wonder what was going to happen. Not like anything I'd read before. Recommend if you're looking for a light read.
Unfiltered: No Shame, No Regrets, Just Me
- Lily Collins -
4 Stars
memoir/self help type book
I expected more of a memoir/personal stories from Lily, but it's a mix of that with a dash of inspiring/self help kind of talk. Although I appreciated that stuff because sometimes, even though you've heard it a million times, you need to hear it again. It was super short and a bit repetitive, but overall enjoyable if you're a fan or need a little encouragement.
Love & Gelato
- Jenna Evans Welch -
3 Stars
teenager moves to italy after her mother dies to get to know her father
I know you shouldn't judge a book by its cover (or title), but I totally had different expectations for this book based on those things. I love a good YA book but I had no idea this was YA. Anyway. It was cute enough, passed the time just fine. Light and fluffy. Some of the lines were ridiculous though 'my voice was like weak tea' or 'his face was as bland as whipped cream'. Um, what?
Talking as Fast as I Can
- Lauren Graham -
4 Stars
gilmore girls focused memoir
When I read Lauren's fiction book, I wondered how much Lorelai was her or if she was trying to be Lorelai. This book made me think that as well - do you really talk like that, or are you trying to be a character we all know and love? It kind of got on my nerves a bit at the beginning, like she was trying too hard to be funny/like her character, but eventually it settled in nicely and I found myself really enjoying it. I liked learning more about her and she is a great writer. I hope she writes another fiction book - perhaps not one about acting though.

She really got my hopes up for more Gilmore Girls. Because seriously, cliffhanger.
indian mythology fairytale-esque kind of retelling
I am in the minority with this one. Just didn't love it. I wanted to hit the main character in the head. I get why the story had to go that way, and I've read similar ones, but like, it has to make sense? Most of her choices just weren't logical. I'm trying not to be mean, it obviously wasn't so bad that I gave up, I was curious to see what happened, I just wish it was better. Ugh. That sounds awful. I feel bad. Just not for me. I also got the second one from netgalley,
A Crown of Wishes
but I will be skipping it.
Technically nothing because life, but according to goodreads I am part way through these 2: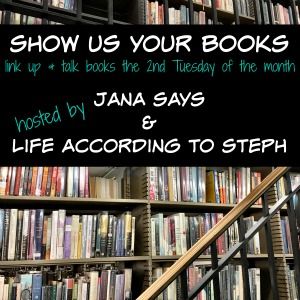 Hopefully life will calm down again soon and the house to do list will get shorter so I can get some reading time in before the next link up! Read anything decent lately?