Happy first Show Us Your Books in 2017! I read a lot since the last link up. I had some bad things happen and I'm the kind of person that needs to stay busy in times like that, but I'm too frazzled to actually do anything. Books are the best kind of 'something' because I can do something while sitting on the couch or curled up in bed, it keeps my mind occupied without doing anything. If I'm out somewhere and I start to freak out, I just open my kindle app or turn on an audiobook and focus on that instead of whatever I'm thinking about. I'm not in denial or anything, I just tend to over think things and stress myself out for no reason. I'm not trying to be vague, just not ready to talk about it yet. So I read, read and read some more. Sometimes it backfires and I hate the book, but for the most part, it helps. All that to say, lots of books in this post, so, shall we?
sci-fi dystopian, society based on colours, kinda hunger games-ish
Such a good trilogy! Normally I read series back to back if I have them all, but I needed several books in between each one of these because they are so intense. Can't even explain why I loved these so much.
time travel historical fiction romance
I freaking adored this book. Gobbled it up. Loved it. Didn't even expect a twist, let alone see it coming. Wish the ending was a bit more fleshed out, but other than that, seriously, loved it. Highly recommend if you like historical fiction or books with time travel.
The Smell of Other People's Houses
- Bonnie-Sue Hitchcock -
4 Stars
set in alaska in 1970s and I can't really explain anything else about it
This book was really good. The cover is gorgeous, the title is interesting, the synopsis.... eh. I didn't think I would like it as much as I did, and I love when that happens. It's quite a short book, beautifully written, I am not normally good with multiple POVs but they all worked and I love how the author tied everything and everyone together in the end.
Read for
Erin's
challenge
- 6 word title category.
Dark Matter - Blake Crouch -

5 Stars
- NetGalley
complete and utter mind f*ck
SO good. Interesting, fast paced, terrifying, overwhelming, with a touch of feel good. Full of sciencey stuff that went straight over my head, but told in a way that made it okay to not fully understand it.
Did You Ever Have a Family - Bill Clegg -

4 Stars
multiple people connected by heartbreak and

tragedy

.
More like 4.5 but not quite 5 for me. Very emotional story.
Never Never - Colleen Hoover & Tarryn Fisher
-
5/4/3 Stars
two people lose their memory at the same time, don't know why or how
I haven't read a lot of Colleen Hoover books, but enough to know that when I started reading this series, it wasn't like her usual stuff. I could not put them down! But - spoiler - NOTHING is answered - WTF. The first book was like omg what is happening, I am so intrigued! The second book.. nothing new, more of the same. What. The third book? No resolution, just magically happily fixed. What the actual shit. I don't recommend them but I couldn't put them down.
Three Amazing Things About You - Jill Mansell -

4 Stars -
NetGalley
three women, three stories, all connected, rom com-ish
Totally adorable. I have read 2 other Jill Mansell books and they were all fun, light, the right amount of cheese. I was reading this one in public and I face palmed at one point because I was so embarrassed for one of the characters, and someone asked me what was wrong. Ha. It really was a fun, enjoyable read, and if you like 'chick-lit', I recommend.
Something like Normal - Trish Doller -

4 Stars
marine comes home on leave, deals with best friend's death
I quite enjoyed this, very quick, pretty enjoyable. I have no idea what it's like to be a marine (or anyone else in the military) but I kept asking KC questions and he kept saying nope. Obviously not every marine and their experience is the same, but it was a bummer nonetheless because I so rarely read things that I can talk to KC about. Regardless of that, I quite enjoyed this. Heavy subject but enjoyable read.
Read for
Erin's
challenge
- freebie category.
Persuading Annie
- Melissa Nathan -
4 Stars
modern day persuasion retelling
Super adorable, different enough from Persuasion to be its own story, but the familiarity was there. I will say, Jake's note was nothing compared to Wentworth's original letter, and I'm bummed the author ruined that, especially with the spelling errors but eh. Overall, adorable.
The Hypnotist's Love Story - Liane Moriarty -

4 Stars
hypnotherapist meets a guy who happens to have a stalker.
If you compare this to Big Little Lies or What Alice Forgot, you'll be disappointed. But honestly, I really enjoyed this story - of course, I always love the Australianisms Liane uses, but on top of that, I just plain enjoyed it. Much more than The Last Anniversary. It was perfectly enjoyable and passed the time just fine.
When All The Girls Have Gone - Jayne Ann Krentz -

4 Stars
- NetGalley
cozy romantic mystery
I really enjoyed this one, much more than her other book (Secret Sisters). I think if you read a lot of mystery, it might be too 'cozy' or predictable for you, but I was super into it and really enjoyed it.
Forgive Me, Leonard Peacock
- Matthew Quick -
3 Stars
honest, sad, lonely, heartbreaking
I am super conflicted about this one. Once I got into it, I couldn't put it down, and some parts of it were so heartbreaking and I felt so much for this fictional character,
but
other parts, I wanted to hit the main character over the head, which I admit isn't very nice of me.
From Manhattan with Love series
- Sarah Morgan -
4 Stars
- NetGalley
three books, three friends, three happily ever afters
Totally adorable and predictable, exactly what I expected and needed. Super cute.
Burn Baby Burn
- Meg Medina -
3 Stars
ya set in new york 1977 - serial killer & black out
I don't know if some of it kind of went over my head or didn't scare me because I knew nothing about what actually happened (or even that it did until I was finished), I don't know how accurate it is.
One of the characters reminded me too much of someone in my own family and it made me antsy.
O
verall it was an enjoyable read.
The Lover's Dictionary - David Levithan -

3 Stars
a love story told in a-z definition format
Very different from anything I've ever read and jumps all over the place. Super quick read, emotional and honest, but not exceptional.
The Irresistible Blueberry Bakeshop & Cafe - Mary Simses -

3 Stars
kinda like sweet home alabama
Lordy I feel sorry for this book. I was in a not great place and I don't think anything would have survived my mood. I love fluffy light books but I think my mood made me pick at every little detail and everything annoyed me. A few days later I didn't hate it as much and I could see that it was a cute, enjoyable read, just at a very bad time for me.
Always - Sarah Jio -

2 Stars
- NetGalley
woman's ex boyfriend vanished, turns up years later as a homeless man
I thought this book was awful. I hate to sound harsh, but seriously. It made me cringe so many times and was just written really poorly. There were also a few plot holes and some things really bugged me. Not a fan.
Today Will Be Different - Maria Semple -

2 Stars

-
NetGalley
woman is a hot mess
Unfortunately, I was not a fan of this one at all. Thank goodness it was super quick, otherwise I would have given up for sure. The ending annoyed me.
Soundless - Richelle Mead

-

2 Stars

everyone is deaf, they start going blind, surprise, they were lied to

You know that emoji with the monkey covering his eyes? That's how I feel about the way I feel about this book. I wanted to like it. I tried to go in with normal expectations even though I've only seen negative reviews.. but I just didn't like it. I thought it was boring. Boo.
Dead Witch Walking - Kim Harrison -

2 Stars
witches and vampires and stuff
I'm so bummed I didn't like this one, as it's pretty popular... but I must be missing something. I thought it was pretty boring, and the things that were somewhat entertaining didn't end up making any sense. I know with series you want to keep readers guessing, but to have absolutely nothing in the first book resolved or making any sense just doesn't make me want to continue reading. Bummer.
Read for Erin's challenge - homonym category.
I also read Congratulations, By the Way which was super short and can hardly be considered a book but I still wanted to share it because it is so worth it to read something like that, we all know these things but it's nice to be reminded to err in the direction of kindness.
Linking up with Steph and Jana.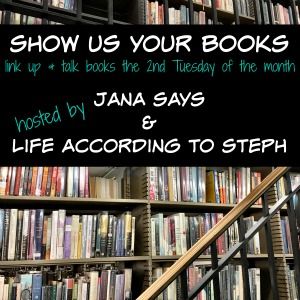 TL;DR - I would recommend Dark Matter to everyone, even if you don't like sci-fi. I'd also recommend the Red Rising trilogy, even if it doesn't sound like your jam. The Rose Garden if you like historical fiction romance, and basically everything else if it sounds like your jam.
Read anything decent lately?