Can you believe it has been 2 years since
Steph
and
Jana
started this link up?! Happy anniversary you guys! Couldn't think of better people to run this thing, and it truly is my favourite day in blogland.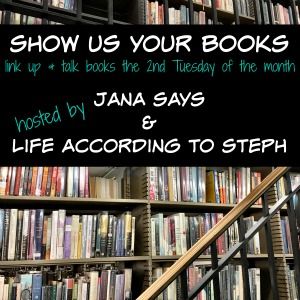 Right after the last link up, I read several books. Trying to get through that library pile. Then I kind of struggled with one book that was accidentally spoiled for me, which obviously annoyed me, but I tried to push past it.... Until I got to page 37 and the next page in the book was 50. Who rips pages out of library books? It annoyed me so much I had to DNF it. I will pick it up another time I am sure, but the spoiler and missing pages just made me not want to read at all.
So then, I turned to netflix and figured I'd watch one episode of this show that
Jamie
had recommended, and get back into reading when I'd calmed down. Except I got totally hooked on the show and didn't do anything else for the next 2 weeks
except
watch that show. Twice. 3 seasons binged in 1 week and then rewatched/binged again the following week.
I am trying very hard not to start it again this week but I really want to you guys.
I already started it for a third time, but this time I am only allowing myself one episode a night, with no fast forwarding to the good bits. Who does that? I'm the weirdest.
Anyway, lets get to the books I did read.
A Darker Shade of Magic - Victoria Schwab
-
5 Stars
I really enjoyed this one. Loved the characters, the story, the world building. It was just a thoroughly enjoyable read. I have
the second one
, but I've been too busy watching TV and haven't read it yet.
Don't Tempt Me - Lori Foster -

4 Stars
I received a copy of this book from NetGalley in exchange for an honest review.
This was a fun read! I liked the characters and the story, it was cute, enjoyable and sexy. For what I was expecting I was pleasantly surprised. I honestly also really liked Lexie and Sullivan and wanted more, and I was really cranky that there was no epilogue. Oh and seriously why is everyone in this town so perfect and gorgeous? Stop it.
Not A Drop To Drink - Mindy McGinnis -

4 Stars
This book was terrifying in a 'this could really happen' kind of way. It's not a fast paced 'let's save the world' kind of book though, but that wasn't a bad thing. I enjoyed it, loved the characters and I couldn't predict what was going to happen... which was probably a good thing because my emotions got a beating at the end.
The Problem with Forever - Jennifer L. Armentrout
-
4 Stars
This book reminded me of The Sea of Tranquility but nowhere near as good. Not that it was bad, not at all.. This is my first book from this author and I enjoyed her writing - there were a few lines that I thought were witty and unexpected. There are a few things I didn't like about this book; far too long, predictable, slow, some characters annoyed me, the teenage angst got a bit much, the necessary but still annoying constant use of ellipses... But overall it really wasn't bad and it made me feel things.
You And Me, Always - Jill Mansell
-
4 Stars
I received a copy of this book from NetGalley in exchange for an honest review.
Oh my gosh this book was too adorable, seriously. I really enjoyed Rumour Has It, so I was a bit worried I wouldn't like this one as much... needn't have worried, it was just as sweet, lovely, funny, cute and a little bit sexy. It's the perfect 'beach' read without being too cheesy. Okay maybe it was a bit cheesy, but sometimes you need a little cheese.
TL;DR - I would recommend the A Darker Shade OF Magic to anyone who likes those types of books, and I'd recommend You and Me, Always for anyone who wants a cutesy beachy type read. Most importantly, I'd recommend Miss Fisher's Murder Mysteries to anyone who will listen!

Read - or watched - anything decent lately?