My last books lately post was a little lacklustre, I just didn't feel like reading for a few weeks. It happens. I went in and out of the mood again this month, I think I read like 6 books in one weekend and then didn't read for 2 weeks. Life is weird.
Keep Me Posted - Lisa Beazley -

3 Stars
I received a copy of this book from NetGalley in exchange for an honest review.
This book was enjoyable, it was very real which I appreciated.
I
do wish the book was faster paced. It took a long time for the conflict to even arise, which of course made the ending/resolution feel rushed, and too neatly wrapped up H
owever, there were definitely things I liked! I loved Cassie's relationship with her kids and her husband. What really struck a chord with me was how she realised that Leo would let her retell a story a thousand times over, but she interrupted him when he did the same, and gosh I do that too. So rude! Going to try and be better. I
t really was a sweet book and I did enjoy reading it, and I really do wish there were half stars because I would totally give this 3.5 (or 3.75!).
Swear on This Life - Renee Carlino - 4 5 Stars
I received a copy of this book from NetGalley in exchange for an honest review.
I LOVED this book. When I saw it on netgalley, I knew it was by the same author who wrote
Before We Were Strangers
which I honestly didn't hate, I just didn't love love love it. I thought this would be another like that, but is so much better. The characters are likable, the story is so unique, I just freaking loved it. It's captivating, and I normally don't like stories within a story but it works. There were only two parts I didn't like (spoiler)
I didn't like the Trevor guy and didn't think there was much point to his story, and I didn't like how Em forgave her shitty father so easily. Or maybe I'm just jealous that he changed. I'm glad her mom was a piece of shit still though, that is way more realistic.
The ending was a wee bit rushed, but still good. Is this book amazing literature? No. Is it enjoyable? Yes. Highly recommend. More of a 4.5. Upped it to 5 because it was that damn good.
Where'd You Go, Bernadette - Maria Semple -

3 Stars

I have been hearing about this book for a couple of years, so I think maybe it was a bit too hyped or my expectations were too high. It was funny, it was different, but it wasn't my favourite book ever. That being said, I'd still recommend it and I'm not mad I read it.
The Wolves of Mercy Falls series - Maggie Stiefvater -

3 Stars

I actually read the first book, Shiver, many years ago before I even knew what goodreads was or what YA even meant. It's been so long that I hardly remembered anything about it, so I thought I'd give it another go. I really don't know what to think of this series. I read it all in one weekend, but I wasn't blown away.
First book: good
Second book: meh
Third book: blah are you freaking kidding me.
One thing I really hate is a lazy ending. I don't want to use my imagination, I am using it enough to read. Sometimes a vague ending works, sometimes it doesn't.
The Fall Up - Aly Martinez -

4 Stars
Okay, this book was all sorts of cheesy, adorable and kinda lame. But I enjoyed it. The only thing I didn't enjoy was the use of certain words.. Honestly, I swear I'm not a prude but I think books/scenes can be sexy without the use of some words that I am not gonna write out here. They really take me out of the book and make me dislike it. That being said, the story was super cute, a tear or two might have slipped down my cheek as I finished it, so obviously I enjoyed it despite the crass words.
Magical Beings' Rehabilitation Center series - KM Shea -

4 Stars

I really like KM Shea's books. They are quite ridiculous and silly but I love them. They are all on kindle unlimited, and I am not sure if I'd pay for them but I would definitely borrow them from the library, if that gives you an idea of how much I like her books. They are all very short, quick, silly, make you smile books. This one was a little bit younger and sillier than I'm used to, and there were parts that bugged me, but overall I really enjoyed both of them. That being said, I think a certain kind of person would like her books, but most wouldn't.
Red Queen & Glass Sword - Victoria Aveyard -

4 Stars

Red Queen has been on my list for ages. I was worried because of the negative reviews, but I think I am finally getting to the point where I can say screw reviews and read what I want. That being said, it didn't super blow me away, though I was intrigued and I did enjoy it. I picked up the second book almost immediately, but it took me a lot longer to get through. The 3rd book isn't coming out till next year and the 4th until 2018, like wtf.
If you like YA dystopia type books, I recommend.
Cruel Beauty - Rosamund Hodge -

3 Stars

I was so disappointed in this book. In case it isn't obvious, I love fairy tale retellings and Beauty & the Beast is my fave. This book had so much potential. I think that it was very predictable, I mean we all know the B&tB story, but still. I didn't like how there were so many stories within the story and they were used to explain other things and it all just got so convoluted, not to mention boring. The main character was so fickle, in an eye rolling kind of way. The story started out strong but completely did a 180 and then the ending was all kinds of stupid.
The Infinite Sea - Rick Yancey -
2 Stars
This book was excruciatingly boring. Yancey treats his readers like idiots, constantly repeating things and over explaining others. It's infuriating. I didn't hate The 5th Wave but I was curious to see what happened but the answer to that is nothing much. The only character I liked dies.
Someone else said it perfectly: I just finished this and forgot everything that happened because nothing happened.
I also read The Love That Split the World for book club, you can read the review here.
TL;DR -
Books I'd recommend because I enjoyed them:
Swear on This Life and The Fall Up.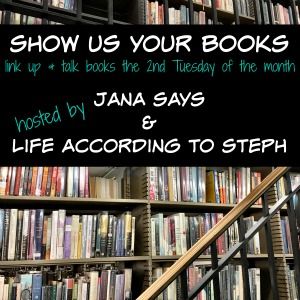 Linking up with Steph and Jana.
Read anything decent lately?