Oh hey goal time. I was quite vague last month and didn't set any real concrete goals, because I was getting in a nasty habit of not achieving any of them. So I thought if I set super attainable goals, I would, you know.. attain them.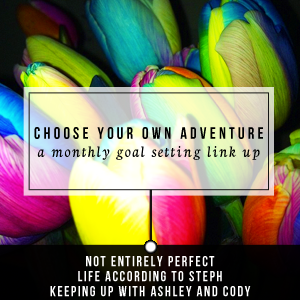 So, did I?

General goals


- Make a few freezer meals for my friend. See said friend and

harass

her and her new baby when he shows up. I'm so excited!!

I made a couple of meals for my friend and her family, and only took a photo of my 'ratatouille'.



- Read some books. Because I never do that.
I read a few books, less than last month for sure. But, I still read.
- Send a gift to my bestie at home who is pregnant with her 2nd and says she doesn't need anything.
Sent bestie a gift certificate to get pampered. Thanks for your suggestions all!
- Run a bunch.
Define a bunch? I think one week I ran once, but other than that I was pretty consistent.
- Lift some weights and do some yoga.
I didn't actually lift a whole lot of weights, but I did do push ups and squats and planks so I'm gonna go with pass. I also yoga'd a lot. Want to get back into proper (to me) weight lifting though.
- Eat well.
I'm gonna go with fail. I didn't eat very well at all.
- Lose weight.
Half pass? The scale went down a little.
- Make new recipes. At least one? Come on Kristen.
Zero new recipes.
- Spring clean the shit out of my house and closet.
I did spring clean a wee bit, especially at the start of the month, then my motivation kind of fizzled out.
- At work, do more work and less blogging.
I'm gonna go half pass? I definitely need to work on this some more but I was definitely better. I still blogged a bit, but I cut down on other things like pinteresting or searching for recipes and made sure all my work was done. Because that's what I get paid for.
Finance goals:
- Sell stuff on eBay.
Oops. I will do this eventually - this weekend or next, maybe?
- Save for Europe / separate Europe $$ from normal savings.
Pass. I set up a separate savings 'plan' because I really didn't want to touch our normal savings. KC thinks we will still dip into our normal savings, I want to prove him wrong.
- Put a dent in that credit card I didn't put a dent in last month.
Fail. With the green card renewal, saving for Europe, Derby and whatnot, there was no extra $$ in April. I still made more than minimum but not as big a dent as I wanted.
- Don't buy a damn thing.
PASS!!!!!
- That includes eating out for lunch, Kristen!
Fail. I ate out for lunch once, but I legit had nothing else. My fault, but hot damn it tasted good, and it was only once which is better than once a week.
Now, for May.. May May May. May is going to be so hard for me. Just kidding. READ ALL THE BOOKS. Ok, I'm not that crazy. Read books. The summer challenge started May 1st, so that's fun. All my challenge lists are here, in case you wanted to know.
Other goals?
- Try not to get too excited for Europe. Haha jk. ALL THE EXCITEMENT.
- Continue saving - meet goal.
- Try not to shop too much.
- Exercise a bunch and lose a wee bit of weight.
Oh, guess what? The end of April marks 8 months without soda. For someone who used to drink at least 3 litres a day - at least, zero
exaggeration
- this is a big deal. It's the longest I've ever gone without soda since I was like 7 probably. I've almost slipped up a couple of times, especially after a run or race, but I've stayed strong. Yay me!
What you got going on, world?