Ah, March begone and hello April.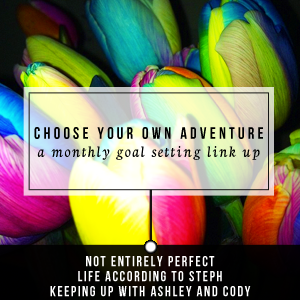 Let's be real, I did absolutely nothing in March. No goals were achieved. I'm just gonna pretend it didn't happen, and hey April!
Well, I did alter 2 pairs of pants, did stuff with KC once a week (not exciting stuff, but stuff just the same) and called my mum and nana once each (last weekend). Everything else was a big fat o failure.
So April, how you gonna be? I'm keeping it real vague so hopefully the goals are easier to meet:
General goals:
- Make a few freezer meals for my friend. See said friend and
harass
her and her new baby when he shows up. I'm so excited!!
- Read some books. Because I never do that.
- Send a gift to my bestie at home who is pregnant with her 2nd and says she doesn't need anything. Thoughts?
- Run a bunch.
- Lift some weights and do some yoga.
- Eat well.
- Lose weight. I am normally okay with whatever the scale says so this is just a general 'fit back into your clothes before you go broke buying new ones because nothing fits' which is basically also a finance goal.
- Make new recipes. At least one? Come on Kristen.
- Spring clean the shit out of my house and closet.
- At work, do more work and less blogging.
Finance goals:
- Sell stuff on eBay.
- Save for Europe / separate Europe $$ from normal savings.
- Don't use any credit cards, hopefully pay some off, but at the very least, don't use them.
- Don't buy a damn thing.
- That includes eating out for lunch, Kristen!
What you got going on, world?