If you would like to see all my travel posts, including recaps, tips & recommendations and packing guides, please visit my travel page.
A few weeks ago, I saw people posting maps of the US with the states that they had been to. So I posted
my own
, and I knew I had been to 22 states (plus DC) but actually putting it on the map made me feel like I'd not accomplished that much. I mean, I know I have done more than most Americans and certainly more than most Australians, but I feel like I've travelled quite a bit and don't have the stamps on the map to prove it.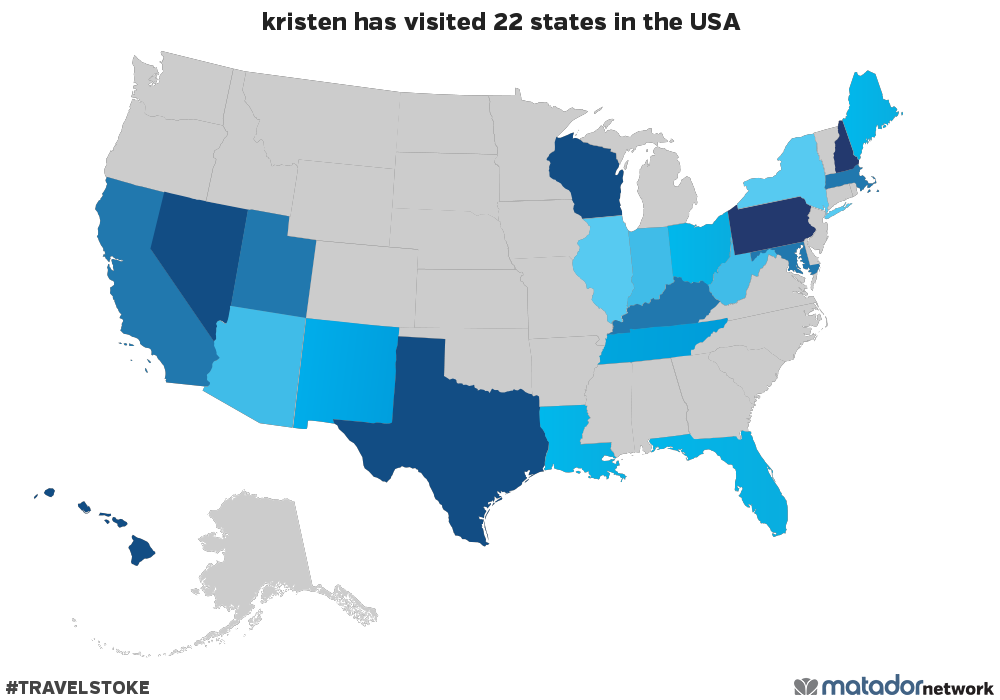 I kinda want to get
this notebook
to document my travelling through the States, but I honestly don't know if I'll ever go to
all
of them or if I want to.. or rather if my travelling partner will want to or if we can afford it. Lots of ors. I think maybe I want to at least get to where I have been to more than half. Also, technically, I have been to more than 22. Most of my travelling was done in 2009 on my first trip to the US and it was such a whirlwind that I have trouble remembering it all.
Alabama -
technically I have been here. When I came to America in 2009 I did this big 3 week tour and we arrived at a campsite somewhere in Alabama, had dinner and hung out, went to sleep and left the next morning. I don't count it because I literally didn't see or do anything outside of the campsite.
Alaska

Arizona -
I went to Arizona in 2009 including the Grand Canyon. Tons o Fun and I would love to go back.
the sun was so bright that it was so hard to keep our eyes open. so.. we covered them.
Arkansas

California -
I went here in 2011 with my Mum and we met up with KC and his Mom at Disney. We also drove around LA to see the sites, Hollywood and such. I'd love to go back, specifically to San Fran & San Diego.
Colorado
Connecticut
Delaware
Florida -
I have been to Disney World twice. I really want to go back to do the Princess Half Marathon (probably Feb 2016). Of course there is so much more to Florida than Disney, and I'd love to see it.
Georgia
Hawaii -
I went to Hawaii with my mum and it was great except KC happened to break up with me and it kinda killed the vibe. I still managed to do lots and have a good time, though I'd love to go back to make some better memories. It is
so
expensive though.
Idaho
Illinois
-
The very first city I went to in America was Chicago (not including LAX of course). I saw Rascal Flatts and did some shopping. Other than that, we go to a small town in Illinois at least twice a year because KC has family there.
Indiana -
Indy is right across the river so I have been here a couple times. Hubers Winery & Football games mainly.
Iowa

Kansas

Kentucky -
I've been here a couple times...
Louisiana -
In 2009 we went to New Orleans and a smaller town that I don't remember the name of. A few people went on a swamp tour and we went to a local coffee shop where they were playing the weirdest instruments I've ever seen and made us dance with them. They were the friendliest people I've ever met and wish I could remember the name or had taken photos. We walked from one end of the town to the other in 15 minutes. Small. New Orleans was SOFUN but I would love to go back and be less drunk and remember more.
Maine -
Went here recently with the girls. Kind of. In the boat. I count it. Ok, I'm counting it for all the states that I've kinda gone to.
Maryland -
We stayed in Maryland the first time I went to DC in 2009. We did stuff, I just barely remember it.
Massachusetts -
Boston and Salem
, yay!
Michigan

Minnesota

Mississippi -
I
think
we drove through here. Not sure.
Missouri

Montana
Nebraska

Nevada -
Vegas! Been to Vegas 3 times, I love it. So much more than gambling and drinking.
New Hampshire -
This is where our friend lives that we went to visit recently, so we spent most of our time here.
New Jersey -
Technically I have been here. When we went to NYC in 2009, our tour ended here and most people stayed here. We hung out for a few hours, ate at a Burger King then caught the bus to NYC. We spent like 2 hours in NYC then I went to my hotel and crashed.
New Mexico -
I don't remember much, except it was really hot and had lots of pretty shops. We went to Santa Fe.
New York -
I spent like 14 hours in the city in 2009, 10 of those in my hotel room so.... yeah. We went back in December and it was amazing.
North Carolina

North Dakota

Ohio -
At the end of my trip in 2009 I went to Columbus on my own to see Rascal Flatts again (don't judge) and do some more shopping. I was so worn out I spent most of my time in the hotel, eating. I have since been back to Cincy (KC's and my 'first date') and just outside Cincy to see Bill Burr with KC.
Oklahoma
Oregon

Pennsylvania -
When I came to America in 2011 with my mum, her requirements were Vegas, Disney and Toby Keith. He was going to have 2 shows in PA that fit in our dates, so there we went. York and .. somewhere else I don't remember except I wore thongs (flip flops) and it was freaking freezing, something about a mountain. Mum had fun and we had great tickets for Toby both times, but our hotel was the worst I've ever stayed in and we had massive issues with rental cars.
an actual photo my mum took of her Toby
Rhode Island

South Carolina

South Dakota

Tennessee - I have been to Tennessee 4 times, technically. Knoxville (we stopped to eat), Nashville (2010), Nashville (2012), Gatlinburg (2013).


Texas - I loved Texas. The people were so friendly here. I did get ridiculous, embarrassingly, alcohol poisoningly drunk and it was pretty sucky but other than that, a great time. We went to San Antonio.


Utah - I don't remember much except we went horse riding here and I almost got thrown off the horse because a rattlesnake scared the horse and the guy shot the snake. Scary.

Vermont

Virginia

Washington

West Virginia - I remember the campsite and going white water rafting (SO FUN) and the super hot guy who was our guide. So fun.

Wisconsin - KC and I drove up here for a Green Bay game and it was the coldest I've ever been. It was fun, but I still can't pronounce the state.


Wyoming
DC
- I have been to DC three times, I love it!
Phew! Why do you all have so many states?! When we got back from NYC, KC suggested San Fran for our trip next Christmas.. I about lost my mind. 1) he never suggests travel
ever
and 2) SAN FRAN!! Not sure if we will actually go, but we'll see. I think I'd rather go to that side of the country in the summer, because it would be nicer weather and we'd have more time.
Where should I go that I haven't been?