So, thank jeebus February is over. For a birthday month, it's kinda sucky. I blame it on the whole living in America thing, because February is Summer at home and we all know Summer is the best.
I definitely did not do the best on my goals, just putting it out there. Regarding my 2015 goals, I did my thankful post, finally posted the positivity post but overall wasn't the nicest to myself, I donated stuff to goodwill but at the last minute... Yeah, kinda fell off all the wagons in February.
February's theme was 'create'. Here's how I did:
- Create the base for a capsule wardrobe - nope

- DIY something small, like 'artwork' - nope

- I want to sew something - nope
- Make 5 new to me recipes again - nope
- Pay off that dang credit card - you guys. This goal first popped up in my 'rest of year goals' aka November, but I had been trying to pay it off for some time. But not really trying, otherwise I would have paid it off. Continuing shopping and getting starbucks was not trying very hard. November, December, January..... February. Boom. Finally.
But it's not over. 2015 is the year I pay them all off - unfortunately I have more than one. Ain't no big deal, one at a time. My ultimate goal is to pay them off and keep just one open to use and pay the balance monthly (for airline miles). Baby steps!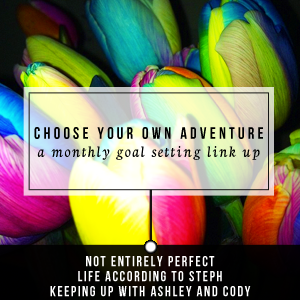 For my 2015 goals I need to:
- do something with my time or money besides Rosa's or goodwill.
- make a large dent in another credit card, like at least 25%.
- spring clean my house and closet aka purge a lot of shit.
- make two new to me recipes.
- alter the things in the 'to alter' pile (at least 2 pairs of pants and 1 skirt).
March's theme is relationships. My goals are simple this month:
- Do something with KC at least once a week.
We do stuff all the time, but more often than not we sit at our own computers and relax in our own worlds. I want to make it a point to do something - whether it's go for a walk, make a meal and eat it together, watch a documentary.. whatever. I just want to do something.
- Call mum and nana at least once each.
For someone who says she misses her family, she sure doesn't call them enough. It's cheap and easy - I have no excuse. I know once doesn't seem like a lot but I email my mum literally (literally) every day. Right now I probably talk to my mum or nana on birthdays and that's it.. pretty bad. So once a month is a step up.
- Work on my relationship with myself.
I think we all know I have issues, and I'm over it. As of right now, I don't have issues anymore. March is going to be the month of doing more of what I actually want to do and loving myself. I have specific goals, but I don't particularly want to share because they aren't goals I want to meet just to meet, if that makes sense. Baby steps is my new motto. That, and don't break the chain.
What are you working towards this month / year?