Hello books books and more books. Holidays and flying mean tons of reading time for me. Plus it's cold, and outside is no fun.
Longbourn - Jo Baker - 1 Star
I was weary of this one because
Sarah
wasn't a huge fan, and I've never read a P&P variation from someone's point of view that wasn't a main character. I still had high hopes because it seemed more popular and 'normal' as in I saw it in bookstores and such. But it was so unbelievably boring, not to mention just atrociously written. The characters, the plot, ugh. No. Would not recommend this to anyone, P&P fan or not. This would go under 'books I wish I hadn't read'. I normally don't review P&P variations and sequels because they are my guilty pleasure, but I don't want anyone to pick this up and think 'well I can't read P&P so I'll read this instead' - NO. Put it down and walk away slowly. Or super fast. Get away.
Dear Mr Knightley - Katherine Reay - 3 Stars
I really wanted to love this book - it's been on my list for so long and has such a pretty cover. If I gave half stars, it would be 3.5. Maybe. It was an okay book, definite flaws, some things annoyed me and I guessed the 'twist' immediately.It was a easy, light read. Some of it was over the top and not realistic. It's apparently a retelling of '
Daddy Long Legs
' which I had never heard of. I don't know. I'm not mad I read it, I don't think I would recommend it to anyone unless they are an Austen fan - the references and quoting even got old to me - me!
Midnight in Austenland - Shannon Hale - 4 Stars
I really enjoyed this book. It has its flaws of course, and it's nowhere near as good as
Austenland
but it's still funny and adorable. I didn't know it was a mystery going into it, but I enjoyed it still. I think Shannon Hale's writing is unique and both books are good reads for chick lit lovers and Janeites alike.
Biana
recommended this to me and it was 99 cents, so.... It's the first in the Dating Mr Darcy series, I also read
Love and Liability
which is #2 in the series, but didn't think the 3rd book
Mansfield Lark
was worth the $2.50 price tag. Yes, for reals. They are ok books, easy, quick, light, cheesy. Nothing serious. Nothing amazing. There were some parts that were cringe worthy and others were I felt like I'd read this story before.. not just because they are based on Austen's work, but they seemed similar to other books I'd read. Eh. They were ok, not mad I read them but I wouldn't read them again.
Sense & Sensibility - Jane Austen - 5 Stars
I freaking loved this. Duh. I could go on and on about why this book is amazing, but it's all been said before. Love. Books like this are the reason that classics are still around.
Emma - Jane Austen - 5 Stars
Well, obviously I loved this. It's Emma. It took me
forever
to get past the first couple of pages, but once I was into it I loved it. And you would too - if you don't want to read it, watch the cute BBC series or Clueless.
Geez how many Austen related books can a person read in a month? What can I say, can't get enough.
Anna and the French Kiss - Stephanie Perkins - 4 Stars
I also read
Lola and the Boy Next Door
and
Isla and the Happily Ever After
which are #2 and #3 in this series. There isn't much to say about these books except they are totally adorable and fun reads. Definitely recommend all of them. Perfect 'beach' reads, I think.
The Kitchen House - Kathleen Grissom - 5 Stars
Ok. So I'm just gonna start off by saying I know less than zero about American History. Some reviews said this book was a bit too heavy on the stereotypes and was historically inaccurate in some parts... I didn't notice because like I said, I was ignorant. But seriously. This book was amazing and wonderful and all the good things a book should be. I couldn't put it down and I felt everything the main characters were feeling - I even felt a bit naive at some parts, like the main character. I truly loved this book and highly recommend. I read a lot of ebooks and rarely buy a paperback unless I am
certain
I am going to love it, or after I have already read the ebook and loved it - this way I don't fill my bookshelves with books I don't love. I am going to buy this book in paperback, that's how much I loved it.
My True Love Gave to Me - Various Authors - 3 Stars
I am not a fan of short stories in general. I absolutely loved some of the stories, whereas some were pretty bad or just okay. Which is why I don't love short stories. But I really enjoyed a few, so it was worth it. Read for Kay & Kari's book club.
Yes Please - Amy Poehler - 4 Stars
I didn't know much about Amy Poehler, I don't watch her show, and I have never seen an episode of SNL in my life. I have seen her host the Golden Globes with Tina Fey, and that baby mama movie, so I knew enough to want to read the book. I listened to it- and I strongly urge you to as well- and I really enjoyed it. Some parts are funnier than others, some are kinda boring, but overall I thought it was good.
Thoughts:
- The part about the demon made me cry. Very awkward whilst running, but I needed it.
- Good for her, not for me - my new motto.
Skimmers, I would recommend Yes Please, The Kitchen House or the Anna and The French Kiss books.
I am currently on book 4 of The Jessica Darling Series (absolutely freaking love and can't wait to finish!!) and book 5 of the
The Mortal Instruments Series (was struggling to finish but then talked to Kari and now I can't wait to read it).
Linking up with Jana & Steph for show us your books! Also with
Rebecca
for her super awesome winter reading challenge.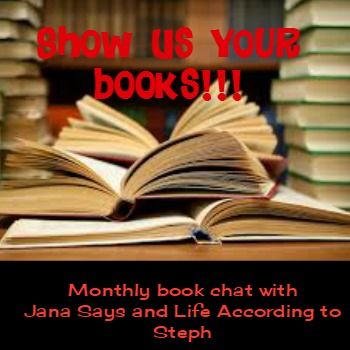 Meanwhile, as you read this I am probably sobbing my poor little heart out at the dentist. Virtual hugs appreciated.
Have you read anything decent lately?