I'm just gonna throw it out there that I did not keep track of my spending in November, I did so much Christmas shopping that it was hard to keep track of it all.. I bought a few things for myself, and returned a bunch. I'm trying to work on building my closet with items I love and that will actually last, and I think I need to do less online shopping from certain retailers because they keep letting me down. I still have a couple of things on the way from Nordstrom and Express (thanks
Gina
), oh and Gap for what I hope is the perfect striped tee that I have been wanting for a bazillion years.
As for my November goals, both the
adventure ones
and the
rest of year
goals... eh, not so hot. I don't know why, November was just a busy / lazy month.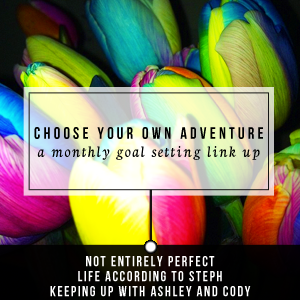 To recap, my goals were:
Adventure:
1. Purge, sell and organise my closet.
I started out strong, and purged the crap out of my closet. I didn't list any of it though, and it was a bit hard to 'organise'. I am going to work on it more this month because I still have so much that I don't love, and I want to love my closet.
2. Organise blog posts.
Complete fail. I have like 150 posts in my drafts, some completed and need to be scheduled and others are one or two word post ideas. Will try and work on it this month.
3. Organise our
important
documents.
Half? Not really. I bought the container, the files and the holders. But I actually need to sort it all out. I meant to do it over Thanksgiving weekend but I was sick.
Rest of year:
1. Lose weight / work on my fitness.
I did get back into the gym halfway through the month and was feeling really good about running. Then I got sick, and didn't work out for a week or so. I definitely didn't lose any weight.

2. No more gluten.
I don't want to talk about it.

3. Pay off 1 credit card.
Progress, but not paid off, but that's ok because I gave myself till the end of the year.


4. Buy all my Christmas presents by the end of November.
Almost. I bought all the presents except for a couple of gift cards and bottles of wine, which I'm not too worried about. I'm quite proud of myself.
5. Limit the shopping for myself.
I got a little spend happy though I didn't track it. I bought some gifts for my girlfriends and bought one for myself, I got our bags that we are going to use for Europe next year and a bunch of clothes that I thought I would add to my 'loved items' and they almost all went back.

6. Purge & Sell, Purge & Sell.
See above.
As you can see, pretty big failure in the goals department. Except for the gifts. What can I say, apparently I'm good at spending money.
The theme for December is 'simplify'. I don't think I will ever be a minimalist, I like some stuff too much. But I don't like the useless stuff and we have too much of that. I want to get rid of the crap - the tupperware without lids, the books we hated and will never read again, the clothes that are too small, KC's high school notebooks (whyyy does he hold on to them?).. all of it.
Steph
gave me the idea for less screen time... KC and I don't watch a lot of TV but take our computers or internet away from us and we'll go nuts. I've thrown around the 'no technology after 9pm from Sun-Thurs' before and we've never stuck with it. I asked KC to help me stick with it this month and he agreed, so yay. Kindles don't count, obviously. We both have the super basic ones that are just for reading.
Update:
Brianne
gave me another idea for simplify / unplugging. KC and I are rarely on our phones when we are together, and more often than not when we do something, we only bring one phone in case of emergencies. I am going to try and work on the times where I am on the phone around him or other people. It's rude. It's my safety net when I feel awkward or whatever, I grab the phone and start playing or checking emails. I'm gonna try and work on that, no mindless phone use instead of interacting with other people.
On top of that, I'm going to work on everything else - purging my closet, selling stuff, working out and avoiding the gluten. And trying not to spend money. Wish me luck!
Oh and guess what? My 3 months of no soda is up! According to my
30 before 30
, I have officially given it up. Yay! KC has given it up as well, and has just passed 1 month.
Do you have any goals to end 2014 well? Wait, wtf? It's almost 2015?! What the shit. I'm not ready you guys. Got any plans for NYE?