Well let's just skip the boring intro, something about me reading lots of books blah blah here's what I've read lately, yeah?
Inkheart - Cornelia Funke - 4 Stars
amazon / goodreads

I really did enjoy this book. I love books about books and book lovers, they make me feel more normal. The story is very interesting, some of it had me on the edge of my seat and some of it.. less so. I did enjoy it but I am not sure if I will read the other 2 or not. I had seen the movie several years ago and as soon as I finished the book I re-watched the movie. Now, I'm a weirdo and I like Brendan Fraser, but the movie isn't the best. It's ok, but the book is better (duh). Read for the winter challenge (15 points).
One of my favourite quotes:

Books loved anyone who opened them, they gave you

security

and friendship and didn't ask for anything in return; they never went away, never, not even when you treated them badly.
The Grand Sophy - Georgette Heyer - a billion (or 5) stars
amazon / goodreads
I don't know why I waited so long to read a Georgette Heyer book but now I can't wait to read them all.
I absolutely adored this book.
It was hilarious,
witty, charming, entertaining... oh my goodness I giggled like a school girl. Now, it is not funny like Bossypants, but it is terribly funny and entertaining for a Regency romance. Don't get me wrong, I'm a Janeite for life but seriously Georgette Heyer is the bomb dot com. You know how you read a book for the first time and you just
know it will be a favourite? Like, you want to slow down because you know this will be the only time you get to read it for the first time? I tried to slow down but I couldn't help myself. I LOVED this book. It made me so
giddily
happy.
I actually read this for the
winter challenge
(10 points) as I overdosed on
Ms Plum
.
The Thirteenth Tale - Diane Setterfield - 4 stars
amazon / goodreads
This book has been reviewed very highly so I tried to keep my expectations in check. It was interesting and well written, t
he author can definitely weave magic with words and her polished phrases are beautiful to read. She captures the essence of a reader's delight in books in a way that strikes a chord with anyone who has ever loved a book. It did take me awhile to get into though.
I really liked Margaret but
I never really got attached to Vida Winter. The twists or secrets that came out at the end were kind of confusing and I would have liked to know more. I know I'm being confusing because I did enjoy this book and would recommend it - I think it's the kind of book that most people would enjoy. It just wasn't absolutely enthralling, and I'm not sure if it will make the re-read shelf.
Read for the
winter challenge
(20 points).
Sharp Objects - Gillian Flynn - 4 Stars
amazon / goodreads
I hate to give 4 stars to this very disturbing and creepy book as that indicates that I "really liked it" when the fact is there is nothing to like about this story. I could not however put it down. It is like driving past a terrible accident, you don't want to look but you can't help it! The 4 stars are for Flynn's ability to pull the reader in and hold them squirming until the end.
T
here was a lot of 'wtf did I just read?' but I expected that. In terms of enjoyment whilst reading, I liked this more than Gone Girl, perhaps because my expectations were lower.
Read for the
winter challenge
(25 points).
Austenland - Shannon Hale - 5
Stars
amazon / goodreads
In terms of enjoyment whilst reading, 5 stars. It's not literary genius, and if I weren't an Austen fan it'd be more like 3 stars, probably. But what can I say, I loved it. I giggled and loved all the characters, just really enjoyed it. I knew I would, I love the
movie
too. Both are perfect for an Austen nut like myself.
Skimmers, I would recommend The Grand Sophy (if you like those types of books) and The Thirteenth Tale.
Linking up with Jana & Steph for show us your books! Also with Rebecca for her super awesome winter reading challenge.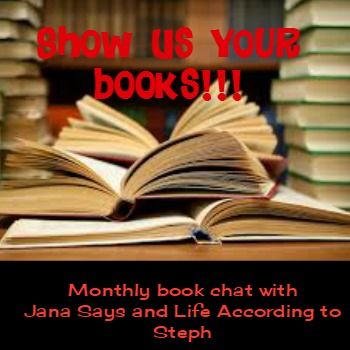 I am almost finished with my goal of 100 books for 2014. Have you read anything decent lately?