YAY MORE BOOKS. Check it out.
I kinda failed the last challenge. I picked some books just because they fit the categories and then I didn't want to read them - I actually found a few good books that way, so I am still glad I read them, but this time I'm going to make better decisions so I can win this shiz. I have been reading like a fool lately so I think I'll do better on this one - it's easier to stay in and read when it's cold (which is anything under 80 for me...).
The challenge is from November 1st to February 28th. Plenty of time to read 13 books- it's 120 days so a little over a book every 9 days. You don't have to finish the challenge (I didn't last time) it's still a great way to find books and book lovers. Doooo eeet.
5 points:
Freebie! Read any book that fits the general rules.
Hmmm. I imagine I will find
something.
Wink wink.
10 points:
Read a book written by an author who has published at least 10 books.
I'm reading the Stephanie Plum series and I'm not even halfway through it. Janet Evanovich has probably published 50 or so books, so one of those will cover this one. I am also passed the ones I have read before, so they aren't re-reads after #10.
10 points:
Read a book of short stories.
This one really stumped me but then I thought of A Pemberley Medley, which I haven't read yet. Does that count? It's 5 short stories so I think it counts. 210 pages.
10 points:
Read a book with a food in the title.
I actually got a copy of All's Fair in Love & Cupcakes via Netgalley, so there you go. 320 pages.
15 points:
Read the first book in a series that is new to you).
I have had a few people recommend the Selection Series to me, and it was already on my list... I'm totally going to read the whole series though, unless I hate the first book. 336 pages.
15 points:
Read a book that was originally written in a language that is not your native language.
I had no idea Inkheart was originally published in German, and I watched the movie a couple years ago and remember bits and pieces, so I'm excited to read the book. 548 pages (excuse me?!)
15 points:
Read a book written by a local author.
Do you know how many awesome books there are from KY authors? Not a lot, let me tell you. I wanted to make my 'local' Australia but was told I couldn't, boohickey. I found The Queen of Kentucky (375 pages) which sounded mildly interesting.
20 points:
Read a "bookish book" (see original post for explanation).
The Thirteenth Tale (one of the examples) was already on my to read list and it has such great reviews, I can't wait to read it. 406 pages.
20 points:
Read a book with a direction in the title.
OMG NORTH AND SOUTH. It's a bit soon for a re-read though, so I will read Northanger Abbey (251 pages) and if that doesn't count, I'lll read Margaret of the North (363 pages).
25 points:
Read a book from a genre you don't usually read.
Honestly, there is a reason I stay away from the genres I don't really read. I love this suggestion, but thinking about a book in a genre I don't usually read makes me go harrummph. I wish I had saved Gone Girl now, no matter, I'll read Sharp Objects because it has pretty good reviews and I did like Flynn's writing.
25 points:
Read a book with a song lyric in the title.
The Girl You Left Behind (one of the examples) was already on my list, so yay! The song is Girl You Left Behind by Pixie Lott.
30 points:
Read two books with a different meal in each title.
This one was so bloody hard. I had
zero
books on my to read list with breakfast, lunch or dinner in the titles - there are 500 books on that list! What the shit! Finally I found
Breakfast at Darcy's
(funnily enough, nothing to do with P&P and
427 pages
) and
Lunch in Paris
(
314 pages
).
If you are going to do the challenge, here are my suggestions:
Make your 'to read' list work for you. A lot of my books are ones I already had on my list - last time, I just found any book that sounded good and I dragged my feet towards the end because I wasn't feeling it. Obviously that's not always possible, it helps if you use goodreads to keep track of the books you want to read.
Don't rush + have fun. As soon as I started thinking I had to read the books and had to finish them quick smart, the last thing I wanted to do was read. Who cares if you don't finish the challenge? The important thing is that you're reading... and we all know there is no enjoyment like reading!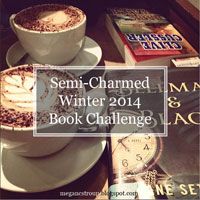 So? You with me?