Did you take part in the awesome challenge that Stephanie

,

Steph

, and

Ashley hosted?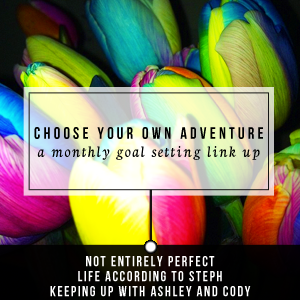 The theme for this month was fitness, and my goal was to d

o some sort of exercise at least 6 days a week

- running, yoga, strength training, walking, a quick youtube video, anything.
So how did I do? Fabulously. Knowing that I had to link up and share my results in the end really made me stick to it. I certainly didn't run every day, far from it, but I made sure to at least do a yoga or pop pilates video 6 days a week. Go me!
I also stuck to my other goals - no shopping (for clothes, shoes etc) and no soda.
Yeah - no soda! It was really easy at the start of the month and I only had a couple days where I really, really, really wanted one (normally after working out really hard and just wanting some sugar) but I stayed strong. The other day I really wanted one and told KC, and he said well you've done a month, just have one after the 30 days. But do I want to? I can't do moderation, so it's drink ALL the soda or drink none of the soda. It's on my
30 before 30
to give it up completely, but it doesn't have to be this time. I can give it up later. I don't know. Thoughts?
My October Food goals are:
- No eating out for lunch at work
- Try 10 new (to me) recipes.