Ahem. Remember the last time I was
crazy stalker lady
?
So I stumbled on
Tania's blog
after seeing a comment on
Samantha's blog
about P&P... and wouldn't you know the first thing I see over at Tania's are her fave
cheap decorating tools
, which included a (partial) cute P&P quote:
And the prettiest copy of P&P I ever did see...
It's up top. Isn't it pretty? I want it.
So I left a comment like 'that is a super pretty copy of P&P and I want it' and then went on my merry googling & ebaying way to find that exact copy. Thank goodness for the 'penguin classics' on the bottom that helped me in my search.
But eBay has approx 2 bazillion copies of P&P and without more info, I was up a certain creek without a paddle. I finally found it after googling, and saw that it was an
Anthropologie exclusive
designed by a
Mr Boddington.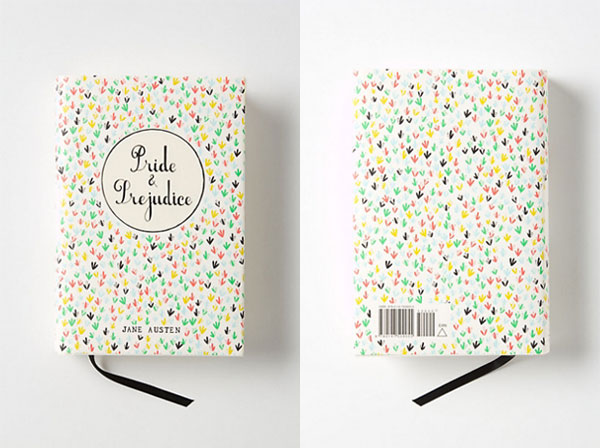 isn't it the prettiest thing you ever saw?
And of course it was sold out. And it was available over a year ago.
But never fear, armed with more information I was sure I would find it on eBay. No luck.
Amazon? No luck.
Um, are there any other places I can check? I even tried
thriftbooks
.
I wanted to cry / ask Tania to sell me hers.
I thought, one last attempt. I would call the only store in the ville. No chance they would have it.
I tried to be non-dorky and gave the lady the item number, rather than tell her exactly what I was looking for. But she couldn't find it, so she asked "what is it?' and I said "a book". She said "hmm, what book?' and I quietly said "pride and prejudice" and SHE SAID "oh, I know we have that here, on the shelf" and sent someone off to look for it.
But don't get excited yet. I knew there would be a possibility it wasn't the exact copy I was looking for. She got it, and said "yep, here it is." I asked her "what does it look like?" she said "it has these little tree things... like arrows" and I was like "OH MY GOD IS IT REALLY COLOURFUL" and she said "yes...." and I said "OH MY GOD CAN YOU HOLD IT FOR ME" and then I proceeded to cry jump dance around the office and then had to explain why I wasn't doing any work on a Friday.
Don't mind me, just looking for the 7th copy of my favourite book.
Zero shame. Zeeeerrooo.
There are also other ones in the collection... aren't they pretty? Don't worry, I won't buy anymore, though isn't the Sense & Sensibility one really pretty? And the Wuthering Heights one, too.
But I will say that if I were to see this copy - hypothetically - and it was only $11 that I would probably most definitely buy it and it is probably on the way to me as I write this but to be fair and lessen the crazy I did order it before I saw the Anthro one - and this is all hypothetical of course.
Now, I am doing no shopping in September, but that doesn't include books because I said it doesn't. Maybe October I will graduate to no books but not yet ok... And why should I? I declare after all, there is no enjoyment like reading! Even if it is the same book over and over again!
Small request! If you are on goodreads, please
add me here
because I love
stalking
seeing what other people are reading!