Not like that. Though wouldn't that be cool? I loved and hated those books, whenever I got an 'adventure' I didn't like, I would just go back and choose the other option, which was totally not the point, but that's what I did.
Stephanie

,

Steph

, and

Ashley are hosting this awesome monthly challenge link up, and th
e challenge for September is fitness and the link up to share our results will be October 2nd
.
So of course I jumped at the chance to do something that would keep me accountable. I have really been struggling with motivation lately, so this challenge should help give me the push I need.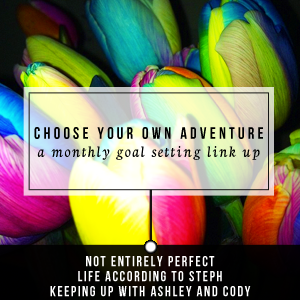 Here is my goal for the month of September:
- Do some sort of exercise at least 6 days a week - running, yoga, strength training, walking, a quick youtube video, anything. I know you need rest days so I'm not planning on running every day, but I want to try and be as active as possible.
I also have other goals this month that aren't fitness related, and I am hoping to keep them quiet until I (hopefully) succeed.
It's only 30 days - I can do it. Are you going to do this challenge?