Every Friday is better than the last. Hello weekend, I have missed you. I have grand plans to do a whole lot of nothing, with a side of naps.
Let's get right into it, shall we?
yes this is a thing this week
This was my status the morning after our wedding. Good times, good times.
Fave Handmade Gift

My best friend made this I mean is she freaking talented or what? She also made every fascinator you'll see me wear (Wedding, Derby), did the flowers for the wedding... made me pretty in 90% of the photos you see on this blog.. yeah she's a good one. I'll keep her.
Fave Bought Gift

So remember my obsession with North & South? Well I guess KC was feeling guilty (no idea why..) and he let me use his Amazon points to buy the DVD set (yayyyy!!) and then, and then, and then! he used a gift card that he had left over from Christmas and bought me the book (yes I know I already owned the kindle version, but don't you know I have 5 copies of Pride & Prejudice?) and another one of Elizabeth Gaskell's books which holy moly it is a thick ass book. Apparently it's good, can't wait to read it after the millions of others that are on my list.
I found these workout tanks and I want them all. They have Disney ones, kitty ones, song lyrics... I want them all.
Yep I'm just making shit up left and right here.
After discussing it with blogland and the husband, we have booked NYC for Christmas. I'M SO EXCITED. KC didn't want to do something warm (wtf?!) and he didn't want to do Disney, we both wanted to save the west coast for a longer trip.. so NYC it is. Really, as soon as Alyssa mentioned she was 20 minutes away from NYC I booked it immediately like I'm not even lying. Guys I get to meet Alyssa I'm so excited I'm like a child. We're going to run through Central Park, see the tree, drink frozen hot chocolates, do some yoga, ice skate, and basically have the best time in all the land and I.AM.SO.EXCITED.
Oh and the flights were $10. Holla miles I love you.
Fave Blog
I can't believe I haven't gushed about Nadine before, but I love love love her blog. It's always one of the first I check every day, even if I can't comment immediately, cause she's hilarious (her confessions always have me rolling) and so down to earth and I'm positive we would be the weirdest besties you ever met if we lived closer. Go check her out at Life by Nadine Lynn. Also, go awwww at her kitty. I want.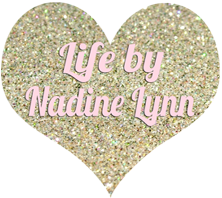 Fave Funnies
Don't forget to link up with
Amanda
(and
vote
!!
every day
!!)
Have a fabulous weekend errybody! Any one got crazier plans than me?