Another guest post while I'm away - this time it's the most awesome of awesome - seriously one of the sweetest gals I've met whilst blogging. If you don't know who she is, you need to. She has 2 (two!!) blogs, she's gorgeous and hilarious. Girlfriend has a way with the words as well.
Hi ladies (
and gents?
)
I assume guys read Kristen's blog too because babe is smokin' - just want to make sure to not leave anyone out!
My name is Jessi and you can find me in a few places on the internet.
JumpingJE
is my lifestyle I'm-your-normal-20-something blog about a single girl who struggles with shopping at Target on a budget. My other space is
Not the Average Bear
where I share my fitness and health journey as a real person who isn't perfect and hopefully you can relate to in your own attempts at adopting a healthier lifestyle.
Posting for Kristen while she's off visiting her family in Australia brings a lot of pressure to the table because I know that you come here over and over because she's funny, real and has an amazing collection of Gifs every single day. It's impressive.
I've decided to honor her love of gifs with the animal we all think of when someone mentions Australia.
The buff, bold, dramatic, playful and apparently itchy kangaroo.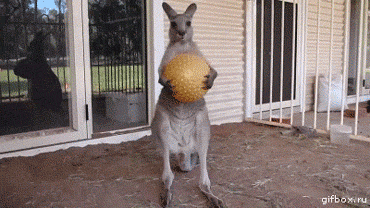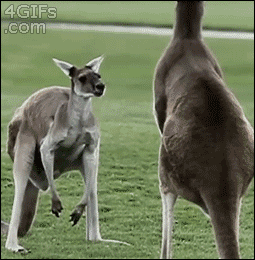 Don't ask me for my top 5 sloth gifs, there's way too many to choose from!