It's Friiiiiiiiiiiiidddddddddddaaaaaaaaaaaaaayyyyyyyyyyyyyy!!
You guys, we're breaking up. It's for the best. It was a good run, but I found someone better. Less demanding, More fun.
From now on, I am just doing the Friday Favourites with Amanda. Bye bye 5 on Friday. It was real. Now I can do more favourites!
on a side note, don't google break up gifs. you might start crying. or whatever
Favourite Recipe
Didn't make them yet! But don't these look amazeballs??
Favourite Song
I have always loved the Goo Goo Dolls and we got to see them on our honeymoon and they played this and I have loved it from the second I heard it. Seriously, at least google the lyrics if you don't want to listen to it, it's super freaking cute, ok?
Favourite Blog
I'm gonna cheat but not really and name 2 blogs as my faves for today, because Jessi has 2 -
personal
and
fitness
. I'm pretty sure everyone in the blogging world knows who she is, so no words needed. But awesome.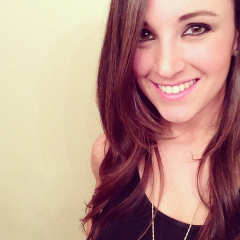 isnt she pretty too!
Favourite (guilty pleasure don't judge me) TV Show
I got all caught up on my TV shows and I mean all of them and I hate waiting for new episodes, and I know the acting is terrible and so is the CGI and all that and KC literally spends the whole time making fun of the show but I cannot.wait.to.find.out what happens in Once Upon A Time, like one particular couple HURRYUPANDKISS please?! Ok, maybe two couples. Not together though.
Oh, and also, Hart of Dixie you're killing me.
Favourite Quote
holla
Favourite Outfit
Summer is full of casual events for me, as I have noted I'm not really someone who goes to fancy things, like weddings and such. But there are lots of dinners and BBQs and get togethers that I like to look cute & casual & comfy and I am
luh-
oving this outfit from
Sammi
. Simple, casual, doesn't look like you've tried too hard but doesn't look like you rolled out of bed. Amazing what a statement necklace and a pop of colour can do, right? Now I want some blue shoes.
Favourite Pin
Remember when you did one of these and thought you looked cool? Now you can again...
Favourite Workout
I was bored last night and went through the workout link up I saw the other day, and decided on doing this for fun. Oh, it's fun alright. Do it if you want your abs to cry happy tears. Or maybe my abs are just babies?
(Non)Favourite Purchase
Unfortunately, it was not
this dress
. It was super cute, just not for me. I ended up returning it because it was just a little too 'little girl'. Also it arrived crazy wrinkled and was SUPER tight at my underarms, but really loose in the chest department.
Favourite Discovery
I might be slow to the everything, but our Boston guests showed us a bunch of
these guys'
videos and, hilarious. This one was my fave. Ay-ay-ron. ha!
Favourite Funnies
all day Friday
when i leave work
Oh my, yes.
I want this
Especially when drunk, love my girlfriends
Truth
Technically I'm from the 80s but I get your point bro
How I feel about the weekend
I''m gonna be home alone tonight, shit is gonna get
crazy.
Have a fabulous weekend everybody! Hope it's awesome and exciting and all that good stuff. Mine will be a lot of this:
side note i want this couch

Obviously I won't be hanging out with my mummy dearest, so give YOUR mom an extra hug for me, ok?
don't cry don't cry don't cry